Valentino LAZARO - The best Austrian since David Alaba!
31.10.2018
Auch England's Sportreportern der größten Medien bleiben Tino's starke Leistungen in der deutschen Bundesliga nicht verborgen! Hier ein toller Artikel der BBC in Großbritannien!
bbc.com
Valentino Lazaro: 'The best Austrian since David Alaba'
---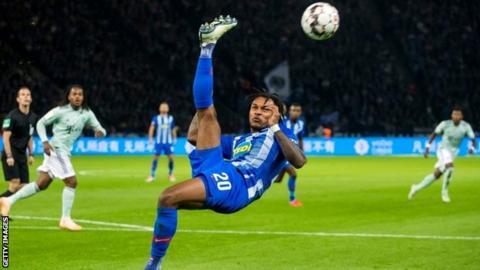 Every week, the BBC Football Daily Euro Leagues podcast panel will select a promising youngster to focus on. This week our subject is...
Valentino Lazaro
Hertha Berlin's Austria international is enjoying a great run of form after completely changing his position this summer.
The 22-year-old attacking midfielder started this season at right wing-back and even after Hertha boss Pal Dardai went to a 4-2-3-1 formation, Lazaro continued at right-back, with Salomon Kalou playing on the wing.
Lazaro joined Hertha on loan from Red Bull Salzburg in the summer of 2017 and impressed so much the German side made the deal permanent in November.
His attacking statistics remain similar to last season, even though he is playing further back the pitch. He has scored once in the opening eight league games - and so is already halfway to matching his tally for the whole of last season.
Lazaro, whose father is from Angola, has had more touches than any Hertha player (69 per game - compared with 38 last season) and has the second highest number of passes in the team (311). He is creating 2.1 chances per game in the Bundesliga - almost double his average last season of 1.1.
He is creating an average of four big chances - defined by Opta as a situation where a player should reasonably be expected to score - in every Bundesliga game, second only to Hoffenheim's Nico Schulz in the league - and one more than Borussia Dortmund's Jadon Sancho.
Euro Leagues podcast analysis
German football journalist Raphael Honigstein: "He's one of the reasons Hertha Berlin are in the mix for the Europa League places this season. He's widely seen as the most talented player to come from Austria since [Bayern Munich's] David Alaba.
"He's been an amazing signing already if you see his energy and adaptability to play in different positions. Some people have compared him to Willian in style - very direct but also skilful. This guy will go places. He looks like he can fit into many different shirts."
LINK:
https://www.bbc.com/sport/football/45983952?fbclid=IwAR2VSdG-citFwVkRR12Mqt6OTOlfkw1C8Q-LHh2zWf7YWNiOrUu1JwAY9hA